---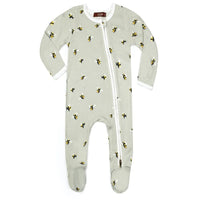 Bumblebee Zipper Footed Romper | 6-9 Mo
MILKBARN, LLC
I zip, you zip, we all zip! Whether zipping from the top-down, bottom-up, or somewhere in between, we made changing and dressing just a wee bit easier with our newborn and baby Bumblebee Bamboo Zipper Footed Romper. With dual, two-way zippers, a closed foot detail, and an asymmetrical seam, this timeless classic blends design with functionality while wrapping our little ones in gentle comfort.
Created of 100% rayon from bamboo, the lightweight, breathable, and buttery-soft qualities of our Footed Rompers naturally comfort sensitive skin.
The Milkbarn World
Organic & Bamboo Baby Clothes & Gifts
Designed with Purpose to Enrich Lives
We believe every keepsake crafted with love touches the hearts of many. We set our standards high, sourcing the finest quality fabrics. We create to last with superior craftsmanship, ensuring our beloved babywear will be cherished today and lovingly handed down in the future. And we remember all we do has the power to enrich lives.
From our hearts to yours, we extend a warm welcome! We trust you'll find that oh-so-perfect Milkbarn treasure that speaks to your heart.