---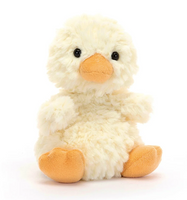 Yummy Duckling
JELLYCAT INC
Pitter-patter, pitter-patter, splash!
Yummy Duckling is the happiest hatchling in scrambled-egg yellow fur. Our waddling wonder has a golden beak and feet, tickly tum and waggle wings. This diddy duck is too little to fly, so give them a lift in your pocket or bag! To the pond, and make it quacky!
Yummy Duckling | One Size H 6" x W 4"
SAFETY & CARE
Tested to and passes the European Safety Standard for toys: EN71 parts 1, 2 & 3, for all ages.
Suitable from birth.
Hand wash only; do not tumble dry, dry clean or iron. Not recommended to clean in a washing machine.
Check all labels upon arrival of purchase.
The Jellycat brand was established in London in 1999 to create quirky, original and innovative soft toys for all ages. Jellycat offers the best selection of soft plush stuffed animals and toys in the cutest and most luxurious of fabrics and textures. With unmatched quality find the perfect stuffed animal with the coolest designs for babies, kids, and adults alike. Plush toys from Jellycat come in a variety of sizes to cuddle, including; mini, small, medium, large, huge, and really big. They also feature a variety of collections and themes to adorn any nursery or children's room for both boys and girls, making a Jellycat the perfect gift. Best of all your Jellycat stuffed animal will provide countless hours of soft hugs and memories for years to come.