---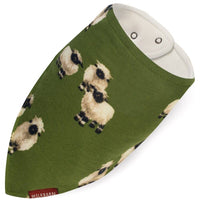 Valais Sheep | Kerchief Bib
MILKBARN, LLC
Snack time in the high chair or storytelling at the park, elevate and transform our little one's outfit with our signature, all-season Valais Sheep Bamboo Kerchief Bib.  We craft every generously sized Kerchief Bib (also known as a Bandana Bib) with three layers of extra soft fabric. Added details include a contrasting backing and adjustable ring-snap closures.
Created of 100% rayon from bamboo, the lightweight, breathable, and buttery-soft qualities of our Kerchief Bibs naturally comfort sensitive skin.
The Milkbarn World
Organic & Bamboo Baby Clothes & Gifts
Designed with Purpose to Enrich Lives
We believe every keepsake crafted with love touches the hearts of many. We set our standards high, sourcing the finest quality fabrics. We create to last with superior craftsmanship, ensuring our beloved babywear will be cherished today and lovingly handed down in the future. And we remember all we do has the power to enrich lives.
From our hearts to yours, we extend a warm welcome! We trust you'll find that oh-so-perfect Milkbarn treasure that speaks to your heart.