---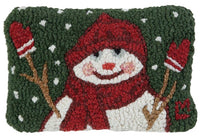 Chilly Cheeks Hook Pillow
CHANDLER FOUR CORNERS
Add a charming touch of premium handcrafted quality to your home with our 8" x 12" hooked-wool pillow, which features a velveteen backing that complements its color. Skilled craftsmen hand-hook the pillow using 100% natural wool, and the artist-designed motifs are the creations of accomplished outdoor and folk-art designers, including Laura Megroz, a renowned artist from Vermont.
Designed by Laura Megroz. Handcrafted in India. Assembled in Manchester, Vermont. Member of Fair Trade Association.
Our petite - 8" x 12" Chilly Cheeks pillow is made of 100% natural wool and hand-hooked with exceptional care by skilled craftsmen. The result is a premium decorative pillow that adds a charming touch of handcrafted excellence to any bed, sofa, or rocking chair.
Our pillow covers are crafted from 100% premium wool, a soft and hypoallergenic natural fabric known for its exceptional comfort, breathability, and long-lasting durability.
Our stunning collection of snow and winter designs are brought to life by accomplished artists from Vermont and New England, including the highly acclaimed folk artist, Laura Megroz. Each piece showcases their exceptional talent, resulting in a beautiful and charming creation that depicts scenes with snowflakes, snowboarding, snowmen, skiers, skiing, winter fun, and more.
Our natural wool pillow inserts are filled with plush poly-fill, providing a sumptuous and comfortable cushioning experience on your bed, couch, or chair.
Our pillow inserts can be effortlessly removed for spot cleaning of the wool pillow cover.
Since 1992, Chandler 4 Corners has been designing and selling beautiful, handcrafted home accents from the resort destination of Manchester, Vermont, an historic New England town nestled in the foothills of the Green Mountains. Our unique décor celebrates healthy outdoor recreation, the warmth of family traditions, and cherished memories made in special places.