---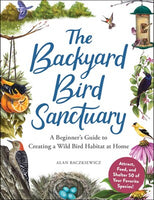 Backyard Bird Sanctuary
SIMON & SCHUSTER
Identify beautiful birds right in the comfort of your backyard with this illustrated, easy-to-use introductory guide to birding.
Ever wonder how to attract beautiful birds right to your backyard? Now you can create a bird-watching paradise with this accessible guidebook that teaches you everything you need to know about welcoming your new feathered friends and how to care for them while they're visiting.
Backyard Bird Sanctuary
 helps you attract fifty of the most common and sought-after birds in the United States. With beautiful, full-color illustrations of both the male and female of each species, you'll have no trouble identifying your new companions. Inside you'll find everything you need to know about welcoming these birds into your yard including:
-Preferred types of food and feeder
-Nesting and brooding habits
-Range and migratory patterns
-Effective techniques for attracting birds
-Ways to provide shelter
-And so much more!
With tips and advice for any sized yard—even a small patio or balcony—you can enjoy the beauty of wild birds wherever you live. Now you can surround your home with cheerful bird songs and beautiful plumage all year long!